Numerous 3.1: Watch Complication, New Features, New Channels
John Scalo
14 October 2015
Meet Numerous v3.1 for iOS. The app that tracks the most important numbers in your life just got even better with new features, iOS 9 support, and new channels. Let's take a tour of what's new.
Spotlight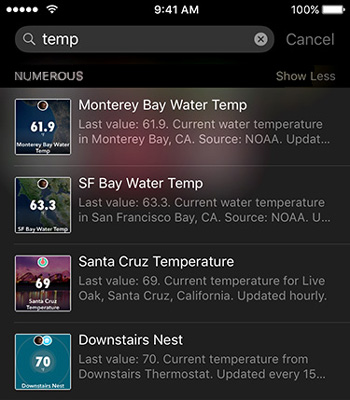 While many Numerous users keep only 5-10 numbers on their dashboard, some just can't help themselves. Lots have more than 40 and one user even has 400. (In case you were wondering, I have 91.) Now with our integration with Spotlight in iOS 9, finding a needle in the haystack is a snap. Numerous keeps the Spotlight index updated with all of your numbers and their latest values. If you tap on a number in Spotlight, Numerous launches, moves to the corresponding page, and opens a detail view for that number.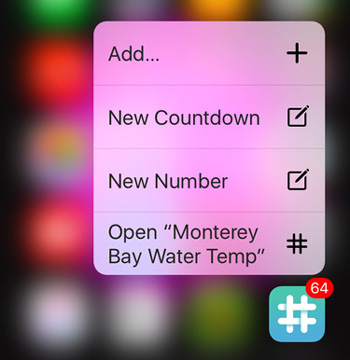 3D Touch
iPhone 6s and 6s Plus owners can now 3D press the Numerous app on the home screen to access a shortcut menu of common actions. If you're using a number to badge the Numerous app icon (a very handy feature), you can open it directly from the shortcut menu. You can also create a new number, a new countdown, or go straight to the add screen.
Universal Links
While previously a link to a Numerous number, channel, or user profile would first open in Safari, then prompt to open the Numerous app, then finally switch to the app, those links now go directly to the Numerous app. It's a small thing, but the time savings can really add up.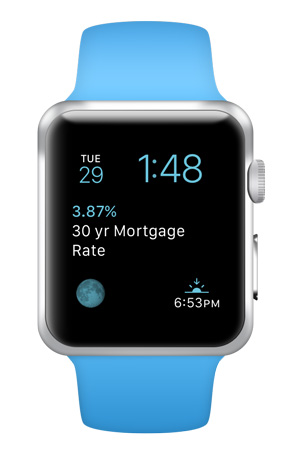 Numerous for Apple Watch
Numerous is now a native Apple Watch app! That means that it runs on the watch and not on the phone so it opens faster and can run and update your numbers even when the iPhone isn't nearby.
Apple Watch Complication
When Apple first announced the Apple Watch we couldn't wait for the ability to put Numerous numbers right on the watch face, and now that time is here. Pick any of your numbers to show as a complication and they become truly glanceable, updating immediately without having to open the app.
The Account Balances Channel
With the Account Balances channel you can track account balances and transactions from thousands of banks, credit cards, and credit unions throughout the United States and Canada.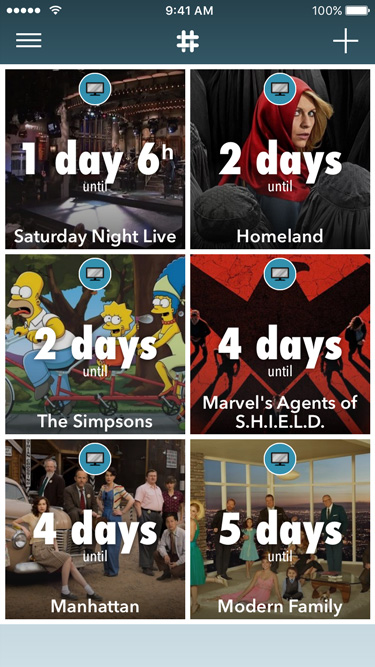 The Movies Channel and TV Shows Channel
Since we first released Numerous, tracking release dates of movies and TV shows has been one of the most popular uses. Now we've made it official by including built-in channels that allow you to search through a comprehensive database of movies and TV shows and add countdowns to your dashboard.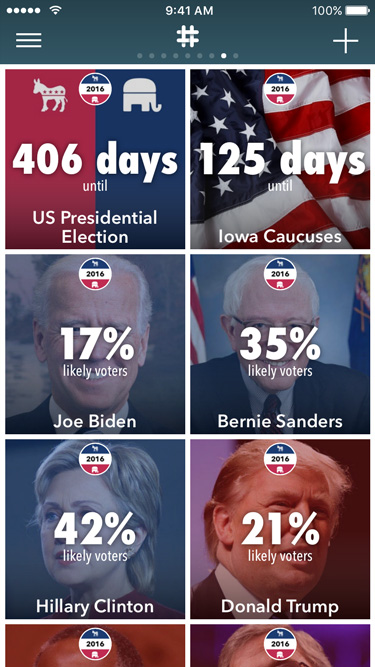 The US Presidential Election Channel
With the US Presidential Election channel you can track and graph current poll standings for every major candidate as well as add countdowns to important upcoming events such as primaries and the general election.
The Klout Channel
Another great channel from our friends at Limited Securities, the Klout channel tracks your "Klout Score", a rank of your social media influence.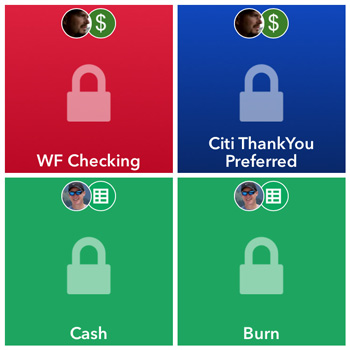 Number Locking
It's always kind of fun to show off my Numerous dashboards to friends and fellow Numerous users. But some numbers, like, say, my checking account balance, are more personal than others. To help keep those numbers private, we've added the ability to "lock" a number so that it's only visible with Touch ID or a PIN. Unlocking the number makes it visible and accessible until you leave the app or switch to another page of numbers.
Measurement Units Preferences
Previously Numerous would show metric units (celsius, km, kg, etc) if your device was set to a region that officially uses the metric system, and imperial units (fahrenheit, miles, pounds, etc) otherwise. But that didn't work for everyone. For example, Canada is officially metric but many Canadians prefer imperial units. With this update, you can choose which units to use for temperature, distance, and weight regardless of the region set in iOS settings.
Odds & Ends
Numbers with location can now be set to only update while using the app for better battery life.
Numbers shared over Twitter, Facebook, email, etc now include a snapshot image.
Added support for newer HealthKit metrics such as water intake, UV exposure, and basal body temperature.
Greatly improved VoiceOver support.
Ready to try out all these great features? Head on over to the Apple App Store and update.